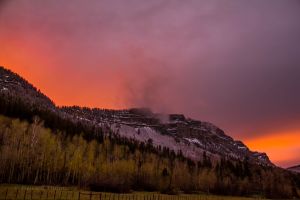 We finally got some moisture in the San Juan Mountains after a considerable drought. I was so excited that I drove up to Coal Bank Pass and ran into a blizzard. Then a rockslide occurred in front of me so I pulled over and got out to remove some of the larger rocks. Feeling good about making the road safe I realized I was stuck in the heavy slushy snow about a foot deep. I tried to get out but started drifting towards the edge of a cliff that overlooks Twilight Peak. Then a truck came by and offered me help which I gladly accepted. Driving further down the canyon the snow turned to rain and the chance for a sunset seemed impossible.
Regardless, I pulled over and waited for a awhile to no avail. I finally speed off calling this one off when all of a sudden, a beam of saturated light burst through the dark clouds and brief light show was on. The aspen leaves are just coming out so I felt thankful to catch that soft green color with the golden sunset on fire directly above the top of the cliffs.
This is why I love Colorado so much!
<a href="http://www.patrickdillonphoto.com" rel="nofollow">www.patrickdillonphoto.com</a>
<a href="https://twitter.com/pfdphotography" rel="nofollow">twitter.com/pfdphotography</a>
<a href="http://www.steadfastchristian.com" rel="nofollow">www.steadfastchristian.com</a>