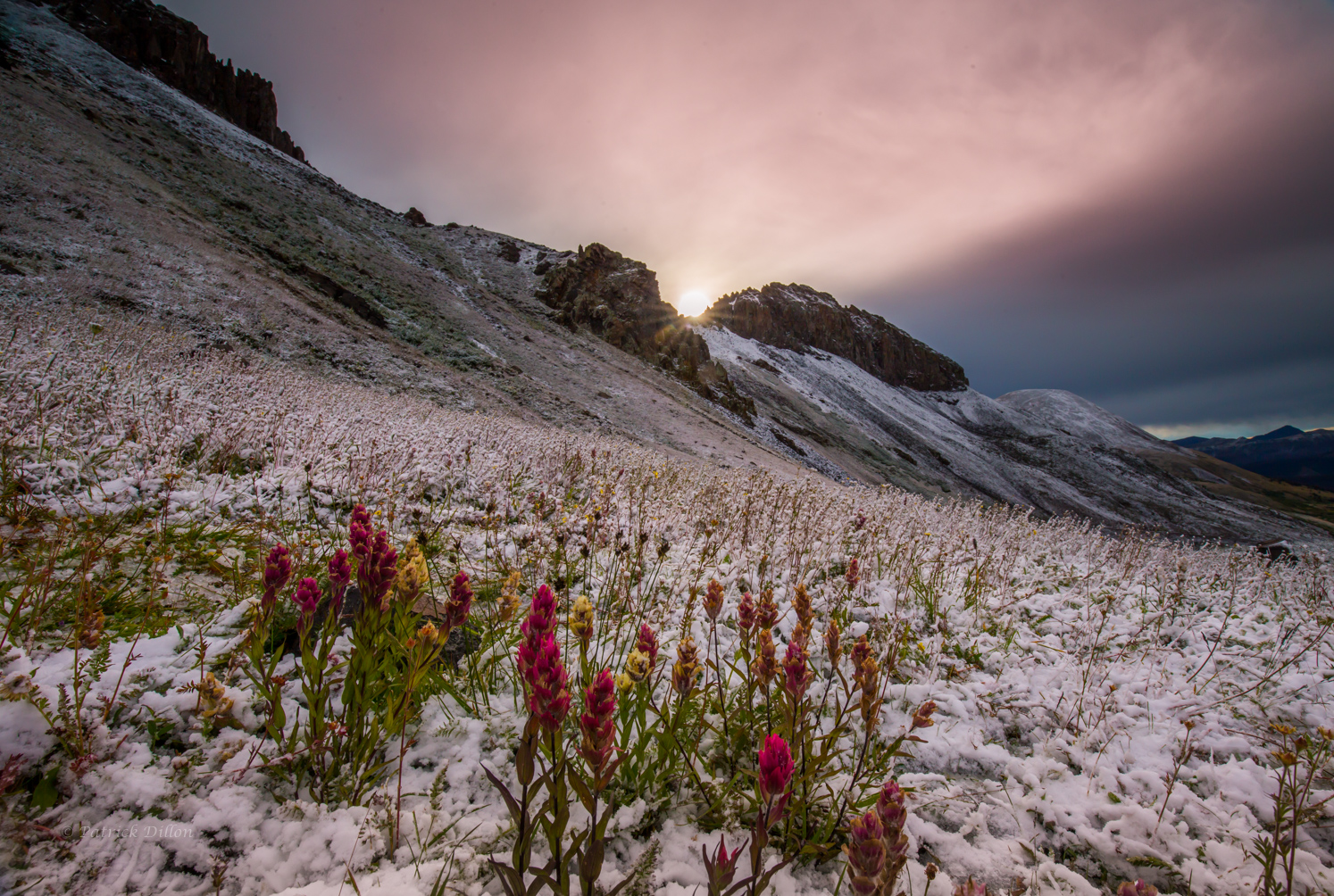 End of August snow took me by surprise! Just several minutes before I was shooting out in a steady drizzle. Then without warning, the sky broke loose with thunder and lightning flashing all around and then the hail came roaring in. I took cover but ventured back out soon afterwards with a flimsy umbrella separating me from the pounding pellets of ice. The hail gave way to snow which was a great relief. It was coming down so hard that it only took a few minutes to pile up 2″ of wet slushy powder.
Then as soon as it came, it was gone with the wind howling as the clouds broke free revealing the distant Grenadier Mountains now covered in fresh snow. Photography was nearly impossible as I was being blown around while trying to get a shot before the clouds moved in again. It was a wonderful moment with the mountains alive with natures fury and there before me was the last stand of paintbrush on the mountain still alive and well after taking a severe beating moments before.
I came back the next morning which revealed an a eerily beautiful sunrise. It only happened for a moment so I had to rush my shot as the obscured sun came up between a gap in the distant mountain for only a moment before the fog reclaimed it again. Then out in the dense fog, a pack of coyotes started howling nearby by which caught my faithful companion's attention as she intently listened to her ancestors now dominating the scene.
Thank you for viewing my site!
Canon 6D, EF16-35mm f/4L, F'14, 16mm, 1/10 sec, ISO 250, Dolica carbon fiber tripod, Manfrotto monopod, and Adobe Lightroom 6 to edit.